Ethnicity
In a global society, The Foursquare Church is dedicated to including and representing every ethnicity. To that end, the Urban Multicultural Council encourages and facilitates training for multiethnic leaders.
The formation of ethnic councils and networks invites discovery of new and existing groups, removes barriers to effective ministry, recovery of areas of brokenness, and offers ministerial covering for leaders. Ted Vail, associate director of U.S. missions, serves as a liaison to the various councils and networks.
For more information, please contact Ted Vail.
---
Stories
By Andy Butcher
Caught in the crosshairs of border control and immigration issues are scores of people in desperate need of basic necessities and spiritual hope. Two Foursquare ministerial couples, one based in the U.S., the other in Mexico, have devoted their lives to helping them.
By Ken Walker | 2 Comments
Three important interdenominational prayer events are taking place in September and October. The Cry Out America 9/11 Prayer Initiative focuses on spiritual revival; the annual Day of Prayer for the Peace of Jerusalem encourages support for Israel; and the Global Day to Pray for the Unreached People Groups of the World emphasizes evangelism.
Read more updates
Resources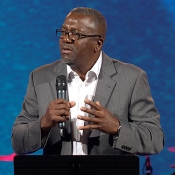 In this Quick Talk recorded live during Foursquare Connection 2013 in Lake Buena Vista, Fla., Foursquare Pastor Huey Hudson shows us how his congregation effectively reaches worshipers of different cultures and what it will take for the rest of our churches to do the same.
Foursquare Pastor Obed Orozco-Bonilla, Foursquare President Glenn Burris Jr. and other Foursquare leaders discuss the future of The Foursquare Church as it seeks reconciliation and cooperation among the world's varied people groups, with the goal of reaching all ethnicities, nationalities, generations and genders with the gospel. Recorded live at Connection 2012 in Phoenix
How should the church respond to the phenomenon of migrations of millions of people to Western nations? In his new book, "Strangers Next Door," J.D. Payne stretches our outlook on this important international political discussion to include God's perspective on these often under-reached people and His love for them.
More resources